How to start your wellness journey with the Smit.fit app
First, complete
our easy
onboarding.
To create your super-personalized plan, we first learn about your demographic, lifestyle, and disease status.
Step 1
Enter your basic information
This includes your name, gender, date of birth, height, weight. We use these to calculate your Body Mass Index (BMI), Basal Metabolic Rate (BMR), and other relevant metrics.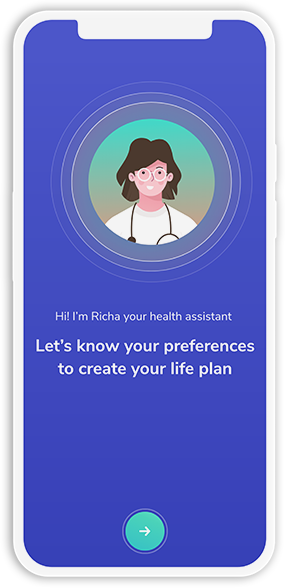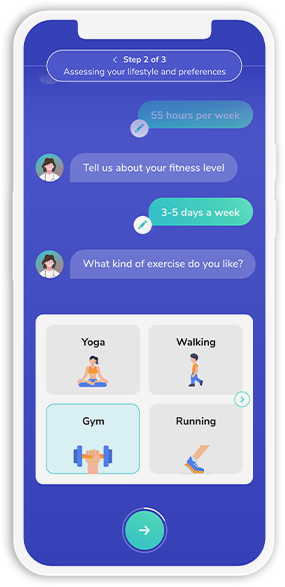 Step 2
Describe your current lifestyle
This includes work hours, current fitness level, preferred exercises, average steps covered daily, preferred exercise times, contraindications to exercise, meal preference, number of meals consumed per day, preferred cuisine, average daily caloric consumption, allergies, sleep schedule, and more. We use these to make personalized recommendations.
Step 3
Tell us about your disease status
This includes your disease type(s), time since diagnosis, complications, latest test results, regularity of medication, and frequency of self-testing.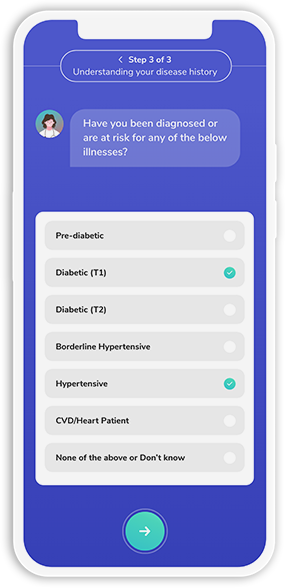 Then, let the app take care of the rest!
HOW IT WORKS

Identifying clinical parameters
Based on the information provided by you, we establish a few lifestyle goals and clinical parameters. We bring these together into our Pentagon of Self-Care Mastery, which allows you to track and improve 5 key lifestyle elements. We will help you get the following parameters right: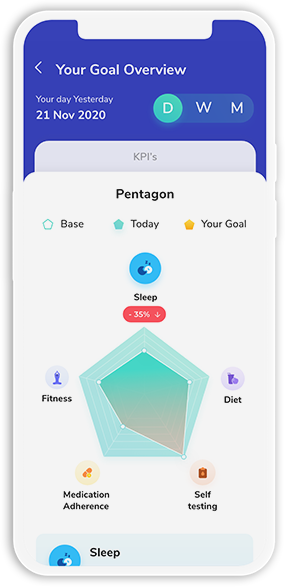 1. Sleep duration
At least 7 hours per night.
2. Nutrition
Meal composition and calorie intake goals are calculated for your weight, height, age, sex, and fitness level. We then use models such as the Harris Benedict formula to arrive at your daily calorie intake target.
3. Fitness
We calculate a steps goal using input variables such as BMI and BMR.
4. Medication adherence
The goal is always 100% adherence to your self-entered medication plan.
5. Self-testing
Self-test checks are defined based on disease intensity, weight, blood pressure (BP), and blood glucose (BG). To do this safely and correctly, our internal clinical team references globally-accepted sources on self-testing of diabetes and self-testing of blood pressure.
Setting your personalized goals
We also provide 90-day goals for your weight, blood pressure, and blood glucose (HbA1c levels)..
1. Weight goals
Calculated based on your BMI, using the height and weight data entered by you.
2. BP goals
Per CDC guidelines, this is 120/80 mm Hg.
3. HbA1c goals
Calculated based on ADA* guidelines, considering what can be achieved safely within a 90-day period.
*American Diabetes Association. (2019, January 1). 6. Glycemic Targets: Standards of Medical Care in Diabetes-2019. Diabetes Care.
https://care.diabetesjournals.org/content/42/Supplement_1/S61.), (https://www.cdc.gov/diabetes/managing/managing-blood-sugar/a1c.html)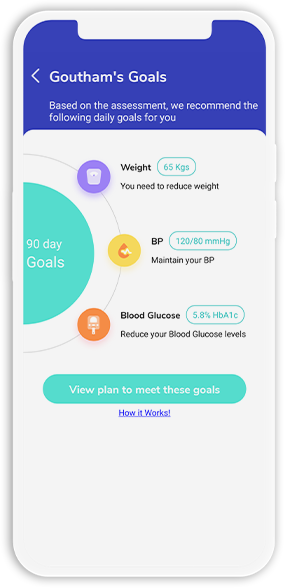 What our app does?
1. Helps you stick to your physician's care plan, including medicines recommended, lab tests to be done, etc. After you complete the app onboarding, you will be given an option to upload your plan. This step is optional.
2. Gives you a lifestyle assessment based on the values you input for the 5 areas of our Pentagon of Self-Care Mastery versus the calculated goal.
What our app does NOT do?
Does not provide any medical advice,such as on:
1. Medications and their frequency
2. Lab testing done by the patient